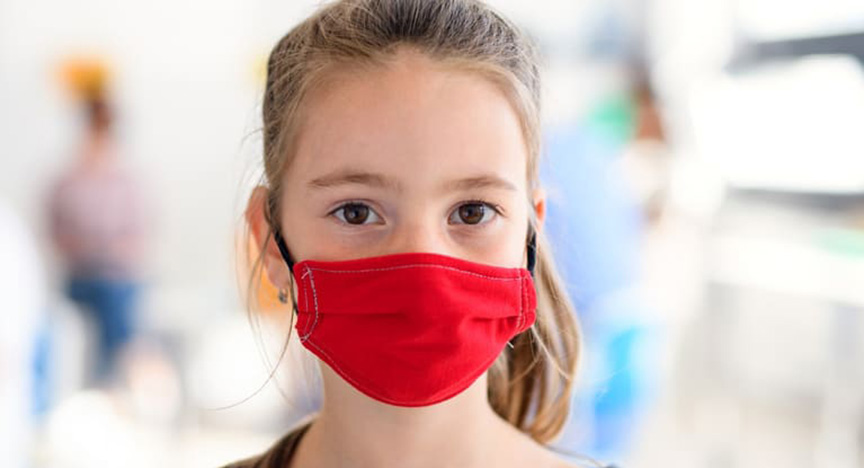 We're all learning to live with COVID-19 and what that means for us and our children.
While young people are less likely to get sick from the virus, vaccination plays an important role in protecting them from serious illness.
Managing symptoms, staying home when unwell and maintaining good hygiene also helps stop the spread of COVID-19 to vulnerable people who are at risk of getting very sick.
Here's a breakdown of the latest expert advice about COVID-19, vaccination and children.
Can my child get the COVID-19 vaccine?
Children aged 5 years and over can get the COVID-19 vaccine in Australia.
The Australian Technical Advisory Group on Immunisation (ATAGI) recommends all children aged 5 to 17 years have two doses to be fully vaccinated against COVID-19.
ATAGI recommends the two doses of the COVID-19 vaccine for children aged 6 months to 4 years with disability and those who have complex and/or multiple health conditions which increase the risk of severe COVID-19.
Children aged 6 months to 4 years with severe immunocompromise should get three doses.
You can find a clinic and book a COVID-19 vaccine appointment for your child online.
Is the COVID-19 vaccine safe for kids?
Children's Health Queensland Director of Infectious Diseases Julia Clark says the COVID-19 vaccination reduces the risk a child will get seriously ill if they catch the virus.
Comirnaty (Pfizer) and Spikevax (Moderna) are the only COVID-19 vaccines approved for use in Australian children and adolescents less than 18 years old.
Both vaccines have been shown to be safe and effective. They also provide strong levels of protection against severe illness.
The Pfizer and Moderna vaccines have one active ingredient, mRNA, and a small number of inactive ingredients including lipids, salts, sucrose and water. These inactive ingredients are commonly found in other vaccines – and common household products such as cosmetics, soaps and shampoos.
The Pfizer and Moderna vaccines do not contain any potentially harmful chemicals or heavy metals.
What are the side effects of the COVID-19 vaccine in children?
Most of the side effects seen in children after the COVID-19 vaccine are expected effects that signal their immune response is building protection.
That may include:
Pain, redness and swelling at the injection site
Muscle pain
Chills
Fever
Tiredness
Myocarditis and pericarditis (inflammation of the heart muscle) is a rare side effect associated with mRNA COVID-19 vaccines.
Young males (particularly 12 to 17 years of age) appear to be most at risk however, local and international data does not suggest younger children (less than 12 years) are at risk of this condition.
As is the case for all vaccines, the safety of the COVID-19 vaccine continues to be closely monitored by expert health professionals.
How at risk are children and teenagers from COVID-19?
The risk of severe illness in children or teenagers from COVID-19 is low.
"In most cases, the virus causes mild or moderate symptoms, which can include fever, cough and tummy upsets but also milder cases of pneumonia sometimes requiring hospitalisation," Dr Clark says.
While serious complications from COVID-19 remain extremely rare in children, critical illness, including neurological problems, and death have occurred in Australia.
Risk factors for severe COVID-19 disease in children include obesity, severe neuromuscular disease, immunosuppressive conditions, heart and lung diseases, diabetes, trisomy 21 (Down Syndrome) and other complex chronic illnesses.
Aboriginal and Torres Strait Islander children and individuals from remote communities may also be at an elevated risk from COVID-19 infection.
By having your child vaccinated against COVID-19, you are protecting them from getting seriously ill if they were to get infected with the virus.
What are symptoms of COVID-19 in children?
COVID-19 symptoms in children may include:
Fever
Cough
Sore throat
Shortness of breath
Loss of smell
Loss of taste
Runny nose
Headache
Nausea or vomiting
Muscle pain
Joint pain
Feeling unusually tired
Diarrhoea
Loss of appetite
If your child develops any COVID-19 symptoms, particularly fever, cough, sore throat or shortness of breath, loss of smell or taste, they should be tested.
If you are unsure, or if your child has a sudden onset of any COVID-19 symptoms, you should contact your local doctor or call 13 HEALTH (13 43 25 84) for health advice.
If you think they need to see a doctor, you should go to your GP or local emergency department.
What do we know about long COVID and children?
Long COVID is where symptoms of COVID-19 last longer than 12 weeks after the initial infection.
Symptoms of long COVID may include:
Extreme tiredness
Shortness of breath, heart palpitations, chest pain or tightness
Problems with memory and concentration
Changes to taste and smell
Joint and muscle pain
Long COVID symptoms are not linked to the severity of your child's initial symptoms and may change and affect your child in different ways at different times.
The impact of long COVID on children in Australia is not well understood due to very few cases at this time, but it's important to be aware that symptoms can last longer.
If long COVID symptoms are impacting your child's day to day functioning it's important to have them reviewed by your GP, paediatrician or paediatric specialist.
Are babies at greater risk of COVID-19?
Babies are not at a greater risk of severe illness (hospitalisation, death) associated with COVID-19. Generally younger children have a mild illness and make a full recovery. In the rare instance that a baby requires hospitalisation for COVID-19, this is generally for feeding support and or oxygen on the ward.
What about children with complex and chronic conditions?
Even children with serious underlying conditions will usually only experience a mild illness with COVID-19, Dr Clark advises.
However, most children who have experienced severe cases of COVID-19 to date also had underlying chronic conditions such as severe immunodeficiency (weakened immune system), chronic pulmonary disease, obesity, neurological and developmental conditions, and cardiovascular conditions the most frequently reported internationally.
Parents and carers should contact their child's specialist care team for tailored advice and information about their specific condition.
What about children who are immunocompromised?
Children whose immune systems have been compromised due to medical treatment (such as chemotherapy, organ transplants, current use of immunosuppressive medications, etc.) are more at risk from the common cold, the flu and other infections, and are more at risk of developing a serious infection from COVID-19.
Most children with cancer experience mild illness and do well if they get COVID-19 but more severe illness can occur, so close observation is needed
It's always important to take precautions to prevent the spread of infections for immunocompromised children (including basic hand and respiratory hygiene practices, and social distancing).
Having vaccinated carers and other close contacts is recommended.
If you have concerns about your child, we recommend discussing their current level of immunosuppression with their specialist to form the best plan for your child.
How can I help prevent my child getting COVID-19?
Physical distancing, good hand and respiratory hygiene are the most important preventative actions we can take to prevent COVID-19 infection.
Avoid crowded places, poorly ventilated, indoor locations and avoid prolonged contact with others. Spend more time outdoors than indoors. Ventilation is also important: Open windows when indoors to increase the amount of outdoor air.
Teach your children to:
Wash their hands with soap and water often and thoroughly (for at least 20 seconds), including before eating and after going to the toilet
Cough or sneeze into a tissue or their elbow (and wash their hands and put the tissue in the bin afterwards)
Try not to touch their face
Try to stay at least 1.5 metres away from people who are coughing or sneezing