Our hospital is in a busy inner-city area. Make sure you allow enough time to park your car before your child's appointment.
Arriving at hospital
Watch our video to see where our main entrances and car parks are.
The Queensland Children's Hospital is located just near South Bank in Brisbane.
The main entry points for the hospital are from Stanley Street, Raymond Terrace and Graham Street.
Disabled access is available at every level.
There are lifts available that will get you to the Main Reception area on level 2.
The main after-hours entry between 8 p.m. and 6 a.m., is next to our Emergency Department or level 1, on Stanley Street.
There are also security intercoms located at the main entry points of the hospital.
It's important to know that our hospital is located in a busy in the city area. So if you're traveling by car make sure you allow plenty of time before your appointment as parking may be limited in peak hours.
If you do drive to the hospital, there free public car parks available, The Queensland Children's Hospital basement car park, the Hancock Street car park on Hancock Street and the Mater Hill car park on Allen Street.
Take a car park ticket when you enter and before you leave pay or one of the pay stations.
To see if you are eligible for parking assistance, speak with our welfare team, or visit them on level 6 of the hospital.
Public transport is a good option for travelling to and from the Queensland Children's Hospital and is within walking distance of regular bus, train and ferry services.
For bus travel, TransLink's Mater Hill busway station, is just hundred meters away, opposite the hospital on Stanley Street.
The South Bank train station is located 350 meters from the hospital and there are City Cat Ferry terminals approximately 500 meters away along the Clem Jones Promenade at South Bank.
There is a taxi set-down and pick-up point outside the hospital's main entrance on Raymond Terrace. You can call for a taxi from the free phones on levels 1 and 2.
If you need to be dropped off or collected by car, there are two set-down areas. The primary set-down area, is at the main hospital entrance of Raymond Terrace on level 2. If you are coming in an emergency situation, there's a drop-off area located all Stanley Street, near the emergency department.
If you have any other questions, remember you can find more information on our website www.childrens.health.qld.gov.au or call us on (07) 3068 1111.
Car parks
There are 3 car parks close to the hospital.
The Queensland Children's Hospital basement car park - entry on Raymond Terrace.
The Mater Hancock Street car park - entry on Hancock Street.
The Mater Hill car park - entry on Water Street and Stanley Street.
If these car parks are full, we have overflow parking in the hospital's basement car park (Level B4). You can access this by pressing the intercom button at the boom gate, which will connect you to the security office. If you can't find a park, and leave within 20 minutes you won't be charged.
The height clearance for the Queensland Children's Hospital basement car park is 2.2 metres. If your vehicle is higher, call hospital security on 07 3068 5128 before visiting to arrange another car park. For height clearances of the other car parks, visit the Mater Health website.
Please remember where you park and if you use the A or B lift.
If you're parking in the hospital basement car park, we have parking tabs showing which level you've parked on. You can pull these from dispensers in the A and B lift areas. They also have a space for you to write the lift you used and your parking row and bay.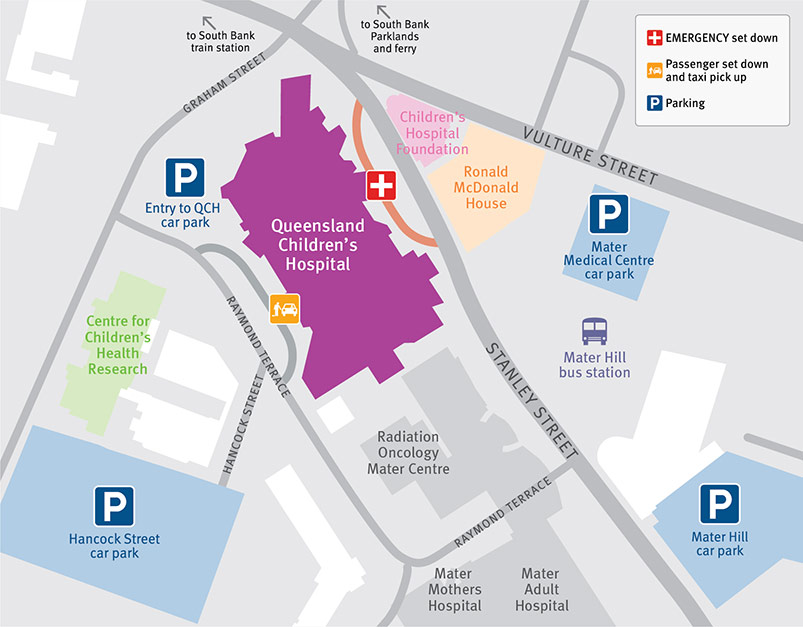 Accessible parking
Our basement car park has 22 car parks for persons with disability on level B1. The height clearance when you enter the car park is 2.2 meters. The disabled parking spots have a height clearance of up to 2.5 metres to allow for lifts, hoists and other equipment.
Parking costs
All car parks are operated by Mater Health Services.
| Time | Full parking costs |
| --- | --- |
| 0 to 20 minutes | $0.00 |
| 20 minutes to 1 hour | $12 |
| 1 to 2 hours | $19 |
| 2 to 7 hours | $24 |
| 7 to 24 hours | $35 |
| Motorbike | $10 |
| Multi day passes - 3 or 5 days | $72 to $110 |
If you lose your ticket, you'll be charged $45.
Concessional parking
Concessional parking rates are $12 a day.
Who can get it
You may be eligible for concessional parking if you have a government concession card and:
your child has an outpatient appointment
your child is staying in hospital as in inpatient.
If you don't have a concession card, you may still be eligible if:
your child has more than 2 outpatient appointments in the same week
your child's hospital stay is more than 3 days.
You can collect concessional parking passes from our Patient and Family Travel Hub team in the Family Resource Centre on Level 2.
Read the Children's Health Queensland Car Parking Concessions Policy to find out if you can get concessional parking.
How to get it
You can apply for concessional parking at the Patient and Family Travel Hub in the Family Resource Centre on Level 2.
The hub is open between 8.30 am and 4.30 pm, Monday to Friday.
If you need more support
If you're having financial hardship you may be eligible for parking support from our Welfare Service.
Visit our Social Work and Welfare Department on Level 6 (6f) to find out if we can help. They're available Monday to Friday from 8:00 am to 4:30 pm. You don't need to make an appointment.