Important points to remember
Wash hands thoroughly with soap and water immediately before and after putting in drops.
Do not touch the tip of the bottle.
Leave at least 5 minutes between each different type of drop.
Have a clean tissue to wipe away any excess that spills onto cheek.
Administer the drops only as often as the Doctor has directed.
Discard drops 4 weeks after opening bottle.
Instilling the eye drops
Lay the child down or sit with the head tilted back for older children.
Gently pull down the lower lid to form a pocket into which to put the drop.
After putting the drop in it is ideal to use a finger (cut fingernail short) to gently press in the corner of the eye.
Hold for 30 seconds and wipe away any excess from around the eye.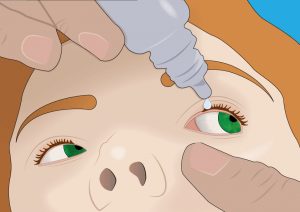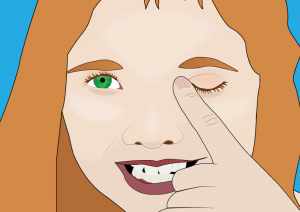 It can be difficult to put drops into children's eyes. You may often need someone to help you. If drops are being put in at the beginning or the end of the day, it can be done while the child is asleep.
When using Atropine drops, if your child experiences facial flushing, dry mouth, constipation, urinary retention and/or rapid heart rate cease the drops and call the eye clinic to arrange a review.
Contact us
See your GP if your child has any common symptoms.
In an emergency, call Triple Zero (000) and ask for an ambulance.
If you're not sure whether to go to an emergency department, call 13 HEALTH (13 43 25 84) and speak to a registered nurse.
Last updated: October 2023