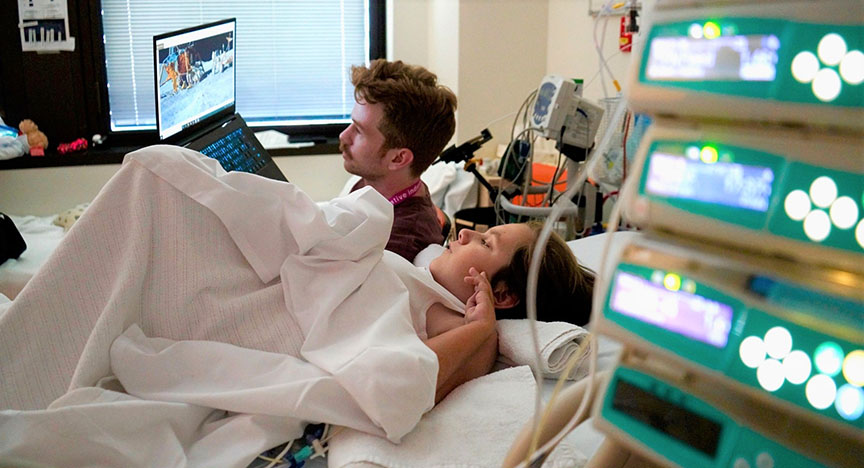 Young patients will be able explore their own virtual worlds to beat the boredom, isolation and anxiety that can be associated with extended hospital stays under a pioneering new study combining technology and creativity.
Children's Health Queensland, in partnership with the University of New South Wales, Griffith University and Central Queensland University, will lead the innovative Future Stories study, which aims to improve the hospital experience of seriously ill adolescents during long periods of hospitalisation.
The three-year study, an Australian Research Council Discovery Project, will be offered to patients at the Queensland Children's Hospital, Cairns Hospital and Sydney Children's Hospital Randwick.
Centred around a co-design approach, the study will explore how the power of the imagination can be combined with virtual reality (VR) technology to support health and wellbeing.
Children's Health Queensland Arts in Health Program manager Lynne Seear said it was important to find new, creative ways for young people to switch off from their reality during a long hospital stay.
"Research has shown a direct relationship between feeling and getting better, and participating in the arts."
A 2019 pilot study at the Queensland Children's Hospital enabled three long-term patients to participate in personalised bedside workshops with a professional digital artist and a filmmaker to co-design their own virtual worlds.
"The pilot demonstrated the significance of the co-design process, which empowered these young people to feel that they could, temporarily at least, 'own' the clinical space around them, and transform it through their imagination," Ms Seear said.
One young participant who benefited from the early research was Carter Giddy. Diagnosed with the progressive disease spinal muscular atrophy in childhood, Carter had been receiving treatment in his hospital room for weeks when offered the chance to create his own virtual world. He chose to travel to the moon – the place he imagined was as far away as from his hospital bed as possible. Read Carter's story.
Chief Investigator, Michael Balfour, Head of School and Professor of Theatre and Performance at University of New South Wales said VR technology had already proven beneficial in some medical contexts, such as psychological disorders and mobility issues, mental resilience and pain reduction.
"Most VR projects in hospitals are used to help doctors explain medical conditions or they focus on pre-built escapism narratives or distraction experiences to assist with anxiety around procedures or treatments, like the administration of needles," Professor Balfour said.
"This project will focus on using a co-design process to create more socially engaging experiences that aim to reduce the challenges young people can experience during extended periods of hospitalisation, like anxiety, social isolation and depression."
The Future Stories study will begin onsite programs at the Queensland Children's Hospital, Cairns Hospital and Sydney Children's Hospital (Randwick) in 2023.